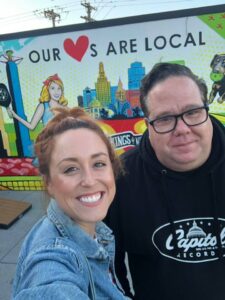 More than 25 years of experience in the development and market launch of high-quality Specialty Shows for FM and online radio stations. Duties include on-air, music scheduling, talent coaching, web and social media oversight, Digital Marketing, brand development…and pretty much everything else in making a radio station. I'm an experienced media brand manager, specializing in engaging audiences through focused presentation, exciting promotions, entertainment coordination, video/audio production, and great content in social media.  
Radio stations I currently work for:  94.7 The Country Giant (WGSQ), 98.5 KISS FM (WKSW), 1400 the HUB (WHUB-AM), and Fox Sports Radio 106.1 The Eagle, as well as TV cable channel 7 in Cookeville, Tennessee and 1059 Kiss Fm, 92.9 The Bull – Lawrence, Kansas
Radio stations I have worked for KC 102.1 Fm – Kansas City, Alice 102.1 Fm – Kansas City, X105.1 Fm – Kansas City, 101 The Fox Fm – Kansas City, 94.9 KCMO Fm – Kansas City, 97.5 The Quake – Oklahoma,
During my career, I have run sound for and recorded multiple national touring artists
Ed Sheeran
Taylor Swift
Lumineers
Michael Franti
Maren Morris
Sheryl Crow
Fitz and The Tantrums
Brandi Carlile
Toad the Wet Sprocket
and many more..                                             
PAUL CHANDLER
913-522-9849
[email protected]
www.listenlonger.com